SIBOS, the most important annual event of the financial banking industry, organized by SWIFT, took place this year in Singapore, gathering during 12 – 15 of October 2015 over 7.000 delegates – decision factors and experts of financial banking institutions, technology providers, market infrastructures, multinational corporates and consultants – from over 140 countries, as well as 180 companies, financial banking groups and technology providers having booths in the exhibition.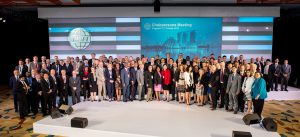 The main topics discussed during the SIBOS Conference sessions were the evolution of technology and alignment with the market trends, increasing the industry efficiency through innovation and collaboration, the challenges and opportunities generated by the new regulations.
The opportunities and challenges brought by the technology evolution concern the financial banking industry more than ever. The debates were dominated by the current changes driven by technology and customers' requirements for speed, ease of use, commodity, transparency and security in the financial banking services, as well as the need of standardization and harmonization of practices at the industry level. Special attention has been paid to subjects as are the opportunities brought by the Internet of Things, the block-chain technology, the developments regarding the real time payments systems and the information security in the cyberspace.
Over 140 representatives of the national SWIFT communities attended the annual meeting of SWIFT National Member & User Group Chairpersons, organized every year during SIBOS. The Romanian banking community was represented by Radu Gratian Ghetea, SWIFT National Member Group Chairperson and Rodica Tuchila, SWIFT National User Group Chairperson.