SIBOS, the most important global event of the banking and financial industry annually organized by SWIFT , took place this year in Dubai, United Arab Emirates, during 16 – 19 of September, marking the 40 years anniversary of SWIFT.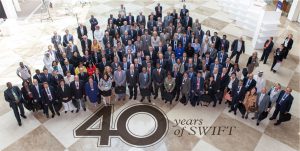 © SWIFT
Exhibition and conference with parallel sessions on different areas of banking and financial activity,  SIBOS gathered during one week over 7.600 delegates – decision factors and experts from banking and financial institutions, technology providers, market infrastructures, multinational corporations and consultancy companies.
With this occasion, SWIFT organized the annual meeting of SWIFT National Member & User Group Chairpersons, where the Romanian banking community was represented by Radu Gratian Ghetea, SWIFT National Member Group Chairperson şi Rodica Tuchila, SWIFT National User Group Chairperson.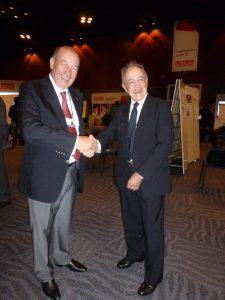 Radu Gratian Ghetea – Romanian SWIFT Member Group Chairperson
Max Engeli – Founding Father of SWIFT FIN Standards, retired Professor Dr, ETH Zurich
The SIBOS Conference programme included a session organized by Allevo , SWIFT Certified Partner for solutions and services, called   "Financial Tribes of the Future" , an open debate about the impact of the technological evolution on the banking and financial services industry, about innovation, shared information and knowledge, and a possible space for collaboration and cooperation between banks, other financial services providers and technology providers.
For more information about this session access the links below:
http://www.allevo.ro/company/blog/2013/september/allevo-at-sibos-dubai-2013-%E2%80%93-financial-tribes-of-the-future.aspx#.UjlAePTGQag.twitter
http://thefinanser.co.uk/fsclub/2013/09/the-future-bank-will-be-the-one-with-biggest-internetwork.html
http://thefinanser.co.uk/fsclub/2013/09/remembering-sibos-2013-in-pictures.html