The Romanian Association of Banks kindly invites the consumers who have a banking dispute to go to the Alternative Banking Dispute Resolution Centre (ABDRC), an entity set up via the effect of the law which solves, free of charge and in a period of time no longer than 90 days, any litigation between customers and banks.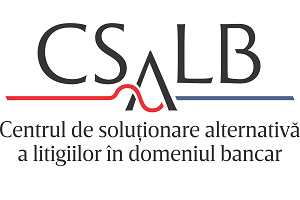 An objective of the long-term strategy determined by the banking industry pertains to improving its reputation and enhancing customers' trust in the Romanian banking system. The contribution to restoring trust can be done by intensifying communication, by programmes of financial education, by enhancing transparency and by alternative methods for dispute resolution. We are of the opinion that solving litigation out-of court via the Alternative Banking Dispute Resolution Centre will bring about enhancing consumers' trust in the banking sector.
The manner to solve disputes does not imply any costs for consumers since these costs are accepted by banks, in conformity with the national and European legislation, precisely with a view to solve the disputes affecting the image and credibility of the Romanian banking sector.
Banks are now at a time when they are building a bridge in order to offer support to the customers who have problems or who are discontent. Crossing this bridge does not mean that customers have to spend a penny; at the end of this bridge, they will find a solution to their problems. In parallel, there is another bridge, much longer this time, the bridge of law courts where customers must pay to cross it. And they do not know what solutions are waiting for them at the other end of this bridge. Moreover, the crossing of this bridge could lead to augmenting the divergences between customers and banks; and it also means gains for those who urge them to cross this longer, more difficult and costlier bridge.
Romania provided for the implementation of Directive 11/2013 via Ordinance 38/2015 on alternative dispute resolution between consumers and merchants.
This Directive contemplates the creation of a simple mechanism that allows consumers and service providers to have faster, cheaper and easy-to-use mechanisms for dispute resolution, compared to their going to court.
Contemplating the complexity of banking and the impact of banking services upon society, the Romanian state has considered necessary for the banking sector to set up this Alternative Banking Dispute Resolution Centre.
ABDRC's activity is coordinated by a Coordinating College made up of five members, respectively one representative of the National Authority for Consumer Protection, one of the Romanian Association of Banks, one from the National Bank of Romania, one from consumers' associations and an independent member chosen by the other four appointed members. Banks do not decide and have no way to decide as long as in the Coordinating College they have only one representative out of five.
Its mission is to solve the disputes between consumers and banks; the resolution action is carried out by persons who are independent in decision-taking, i.e. the conciliators. The Conciliators Body is made up of professionals, independent against the Coordinating College, ABDRC and the parties, conversant in financial and banking law and experienced in dispute resolution.
Address: Bucharest, Str. Sevastopol 24, et 2, sector 1, postal code 10992, Romania.
Website: http://www.csalb.ro